About Priest Anil Kumar Sharma
Priest Anil Kumar Sharma is an independent priest residing in Phoenix, Arizona.
He Has complete knowledge of Hindu religious events and vedic rituals and provided extensive services throughout the state.
Apart from performing various poojas, His knowledge extends to Astrology and Vasthu Shastra.
Anil Sharma ji hails from Hyderabad, Telangana. He has acquired his knowledge in Krishna Yajurvedam at Sankara Matham from Brahma Sri Kaluvakolanu Ramakrishna Sharma Garu And further proceeded to learn sastram from Pt.Sri Chebiyaam Sreenivasa Sharma Garu.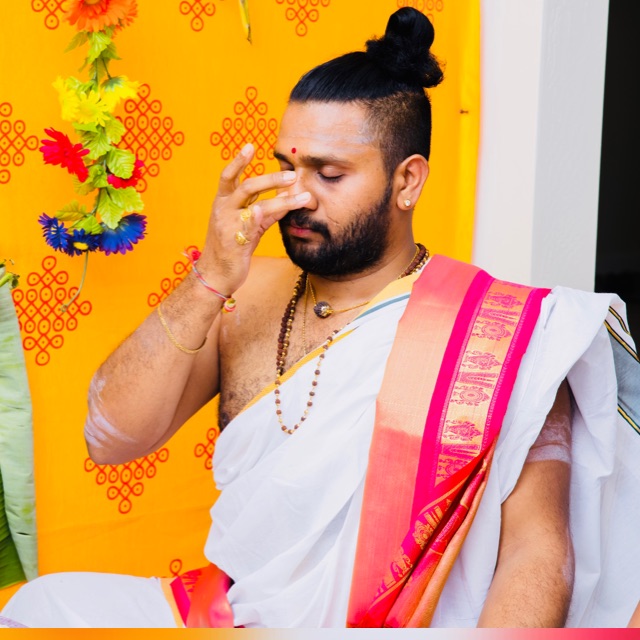 He pursued Astrology and Vasthu Shastra courses at Indian Council of Astrological sciences and has been awarded"Jyotisha Praveena" and"Jyothisha Visharada" titles from the Institute in 2005 and 2006 .he has more than 15yrs of experience in Astrology and vasthu services.
Anil Sharma ji has 15 years of experience working at various temples in USA and India prior to working independently.
Sharma ji provides services in person and online throughout the USA; He is multilingual and can converse fluently in Telugu, Hindi, Sanskrit, and English.
His services include: Gruhapravesams, Homas, Vratas, Upanayams, weddings and lot more. Provides Astrology services such as Horoscope reading, Kundali matching, fixing Muhurthams, Remedy Services.
Vastu consultatons for Home purchases, Commercial Business and properties.
Sanathana Vaidika Dharma Peetham was established in the year 2020 by Sri Anil Kumar Sharma to provide the Hindu religious services in virtuous manner. The word "Santhana" means Eternal and the conventional practice of "Vaidika Dharma" is Santhanam.
"Jnanavam manavaḥ proktah", of the 84 Lakhs living beings in the creation, mankind alone has the capability of wisdom and rational discernment. The Vedas and rites mentioned therein are the means with which the discerning person acquires such knowledge and wisdom. "Sanskriyate cittam aneneti sanskaraḥ" Samskara purifies the mind and guide the person to move in the right direction with determination. Hence, the religious practices are fundamental to Hindu Sanathana dharma.
The purpose of Sanathana Vaidika Dharma Peetham (SVDP) is to establish and encourage the practice of performing Vaidika karmas such as:
Nithya Karma (Daily rituals) like Sandhyavandanam, Devatarchana
Naimittika Karma (Obligatory/Occasional rituals) such as Vivaham, Jatakarma, Namakaranam
Kamya Karma rituals like Rudrabhishekam, Grihapravesam
Shrouta karmas like Yagas example: Agnishtoma, Athiratra, Aptoryama
The main objective of our mission is to uphold such dharmas and perform rituals with Vedic procedures, teach aspirants and thus pass on to the future generations for sustainability of Hindu Samskrithi and Sampradayas
The main function of this organization is to perform various Vedic services traditionally such as wedding, housewarming ceremonies, examining horoscopes and Vasthu suggesting appropriate vedic remedies then guide the seekers the path to success!
Shivo Rakshathu
"From our past experiences, most of us may have developed a certain impression on how priests perform religious services, on the attire, etc. Priest Anil Sharma has a unique way of performing or explaining any ritual and is blessed with that ability to explain things in such a way that engages every one. We know Anil ji for about 5 years and had seen/participated in the rituals he performed. He explains very clearly on how and why a certain hindu belief was formed and in practice since ages. He also ties that so well with any scientific significance and that way, he seems to be so conceptual to us.Pleasure to know him and we look forward to learn a bit from him."
"Anil Amarvadi Garu is one of the best priests in the valley and has helped us with many of our religious events including house warming, poojas, muhurtams, Vasthu etc. We are always amazed with his devotion and dedication to detail on every service he performs and giving personal attention to any specific needs that we have. He is highly knowledgable in his field which makes him the most sought after priests here. The main thing that differentiates him from others is, his in depth knowledge of every ritual he performs and the ability to explain the scientific reasoning behind it in simple terms so that every can easily understand."
"Anil Amarvadi Garu has been our biggest support and go-to priest for all religious services. His knowledge in performing all pooja ceremonies and also his command on astrology is unparalleled . Not only does he perform the services with utmost devotion and dedication, but also has the ability to easily communicate in multiple languages fluently and explain the facts / science behind the tasks performed at each ceremony in a way that appeals to everyone alike. He performed several services for us and we are always thankful to him for everything. Thank you so much Anil Garu. We would strongly recommend him and his services to anyone anytime."
"There are many different qualities looked for in a good priest. Priests are expected to be knowledgeble, caring, compassionate and understanding. Anil garu is a good role model and I often ask for his opinion or advice and he would address it asap. Anil garu is most approachable, friendly, someone people will always prefer to go to."
"Anilgaru, thank you so much for all the services you rendered at all the events you performed for our family. Rudrabhishekam, Satyanarayana puja, kedara vratam, Rudra homa, Pitru puja etc etc. You were the first priest we met here in AZ and cherish the guidance you have always provided on all occasions. Very knowledgeable and experienced. Anilgaru, with all the good contacts and friends you have in India, were able to do some kratus in India as well. Really pleased to have known you. God bless and best wishes !!!"
"ANIL KUMAR GARU garu is the Hindu priest that you want to have every pooja or rituals done by. Excellent Knowledge of Vedas and very efficiently speaks many languages like SANSKRIT, Telugu , English Tamil and Hindi . Good Hindu priest for new home pooja services and other ceremonies for kids, marriages, festivals and other events. While some Hindu ceremonies can be dry, Anil Kumar Sharma garu makes it exciting by explaining all steps and keeping it light and engaging for all. The only reason I gave 5 stars was because I could not give 6. Great experience. Highly recommended for all..."
चलत्यस्मिन् महकाले । सिवसंकल्पतुवैस्यात् ।। "Anil is a very friendly and knowledgeable priest in the valley area. He has been doing pujas at our home from the last 3 years. He is our go-to-guy for any questions related to muhurthams and pujas."